Joining clips are designed to fit the different pitches and belt width. In order to clearly define a specific joiner, Hessels makes use of a standard coding.

A: Type joiner
B: Pitch
C: Belt width
D: C.T.C. distance of the rivet holes
E: Diameter of the rivet holes
Joiner type ZDOL
Welded joiners like the SLZOL, but these joiners have an adapter (TSZDOL), so 2 joining rods are needed.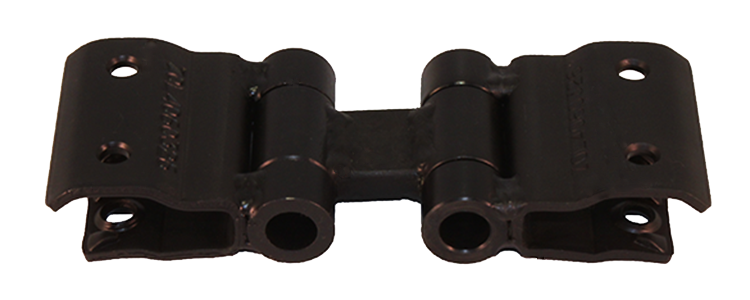 | Type | Product number | Includes |
| --- | --- | --- |
| SLZDOF40/60/32×6 joiner | 3080-11411 | Per pair including pivot |
| SLZDOF43/75/32×6 joiner | 3080-10610 | Per pair including pivot |
| SLZDOF45/75/32×6 joiner | 3080-10887 | Per pair including pivot |
| SLZDOL28/50/20×5 joiner | 3080-09692 | Per pair including pivot |
| SLZDOL28/50/20×5 joiner | 3080-09692 | Per pair including pivot |
| SLZDOL28/50/20×6 joiner | 3080-10408 | Per pair including pivot |
| SLZDOL28/60/20×5 joiner | 3080-07706 | Per pair including pivot |
| SLZDOL28/60/20×6 joiner | 3080-10821 | per pair including pivot |
| SLZDOL28/60/30×6 joiner | 3080-09634 | per pair including pivot |
| SLZDOL28/60/32×5 joiner | 3080-07852 | per pair including pivot |
| SLZDOL28/60/32×6 joiner | 3080-07658 | per pair including pivot |
| SLZDOL32/50/20×5 joiner | 3080-07386 | per pair including pivot |
| SLZDOL32/50/20×6 joiner | 3080-07383 | per pair including pivot |
| SLZDOL32/60/20×5 joiner | 3080-07258 | per pair including pivot |
| SLZDOL32/60/20×6 joiner | 3080-07543 | per pair including pivot |
| SLZDOL32/60/30×5 joiner | 3080-07256 | per pair including pivot |
| SLZDOL32/60/30×6 joiner | 3080-07152 | per pair including pivot |
| SLZDOL32/60/32×5 joiner | 3080-07028 | per pair including pivot |
| SLZDOL32/60/32×6 joiner | 3080-07544 | per pair including pivot |
| SLZDOL32/75/32×6 joiner | 3080-07815 | per pair including pivot |
| SLZDOL36/50/20×5 joiner | 3080-07615 | per pair including pivot |
| SLZDOL36/50/20×6 joiner | 3080-07613 | per pair including pivot |
| SLZDOL36/60/20×5 joiner | 3080-08169 | per pair including pivot |
| SLZDOL36/60/20×6 joiner | 3080-07027 | per pair including pivot |
| SLZDOL36/60/30×5 joiner | 3080-07851 | per pair including pivot |
| SLZDOL36/60/30×6 joiner | 3080-07273 | per pair including pivot |
| SLZDOL36/60/32×5 joiner | 3080-07029 | per pair including pivot |
| SLZDOL36/60/32×6 joiner | 3080-07026 | per pair including pivot |
| SLZDOL36/75/20×6 joiner | 3080-06935 | per pair including pivot |
| SLZDOL36/75/32×5 joiner | 3080-10881 | per pair including pivot |
| SLZDOL36/75/32×6 joiner | 3080-06936 | per pair including pivot |
| SLZDOL40/60/20×5 joiner | 3080-07580 | per pair including pivot |
| SLZDOL40/60/20×6 joiner | 3080-06684 | per pair including pivot |
| SLZDOL40/60/30×5 joiner | 3080-07854 | per pair including pivot |
| SLZDOL40/60/30×6 joiner | 3080-07306 | per pair including pivot |
| SLZDOL40/60/32×5 joiner | 3080-07579 | per pair including pivot |
| SLZDOL40/60/32×6 joiner | 3080-06685 | per pair including pivot |
| SLZDOL40/75/20×5 joiner | 3080-09978 | per pair including pivot |
| SLZDOL40/75/20×6 joiner | 3080-06687 | per pair including pivot |
| SLZDOL40/75/32×5 joiner | 3080-09979 | per pair including pivot |
| SLZDOL40/75/32×6 joiner | 3080-06873 | per pair including pivot |
| SLZDOL42/60/20×5 joiner | 3080-07450 | per pair including pivot |
| SLZDOL42/60/30×5 joiner | 3080-07448 | per pair including pivot |
| SLZDOL42/60/30×6 joiner | 3080-08136 | per pair including pivot |
| SLZDOL42/60/32×5 joiner | 3080-07616 | per pair including pivot |
| SLZDOL42/60/32×6 joiner | 3080-07971 | per pair including pivot |
| SLZDOL42/75/20×6 joiner | 3080-08089 | per pair including pivot |
| SLZDOL42/75/32×6 joiner | 3080-08081 | per pair including pivot |
| SLZDOL43/60/20×5 joiner | 3080-08024 | per pair including pivot |
| SLZDOL43/60/20×6 joiner | 3080-07269 | per pair including pivot |
| SLZDOL43/60/32×5 joiner | 3080-07602 | per pair including pivot |
| SLZDOL43/60/32×6 joiner | 3080-07113 | per pair including pivot |
| SLZDOL43/75/20×5 joiner | 3080-08193 | per pair including pivot |
| SLZDOL43/75/20×6 joiner | 3080-06934 | per pair including pivot |
| SLZDOL43/75/32×5 joiner | 3080-07670 | per pair including pivot |
| SLZDOL43/75/32×6 joiner | 3080-06875 | per pair including pivot |
| SLZDOL45/60/20×5 joiner | 3080-06856 | per pair including pivot |
| SLZDOL45/60/20×6 joiner | 3080-07154 | per pair including pivot |
| SLZDOL45/60/30×5 joiner | 3080-09045 | per pair including pivot |
| SLZDOL45/60/30×6 joiner | 3080-07156 | per pair including pivot |
| SLZDOL45/60/32×5 joiner | 3080-06854 | per pair including pivot |
| SLZDOL45/60/32×6 joiner | 3080-07833 | per pair including pivot |
| SLZDOL45/75/20×6 joiner | 3080-10390 | per pair including pivot |
| SLZDOL50/50/20×6 joiner | 3080-07757 | per pair including pivot |
| SLZDOL50/60/20×5 joiner | 3080-07617 | per pair including pivot |
| SLZDOL50/60/20×6 joiner | 3080-07270 | per pair including pivot |
| SLZDOL50/60/30×5 joiner | 3080-07619 | per pair including pivot |
| SLZDOL50/60/30×6 joiner | 3080-08033 | per pair including pivot |
| SLZDOL50/60/32×5 joiner | 3080-07978 | per pair including pivot |
| SLZDOL50/60/32×6 joiner | 3080-07195 | per pair including pivot |
| SLZDOL50/75/20×6 joiner | 3080-07033 | per pair including pivot |
| SLZDOL50/75/32×6 joiner | 3080-07032 | per pair including pivot |